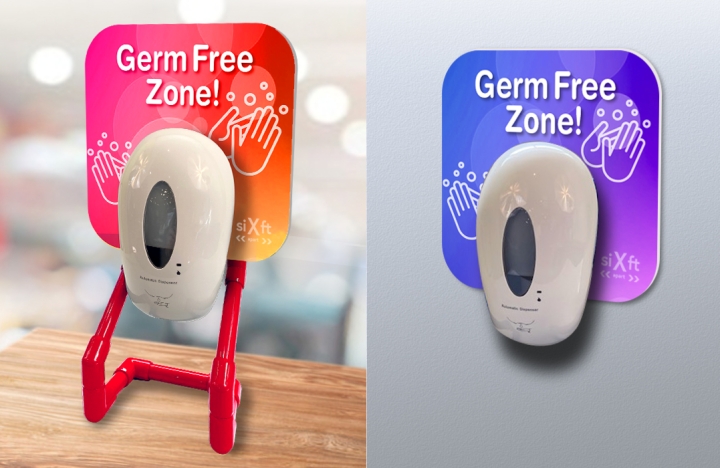 Safe, convenient and effective, our HandStands are the perfect way to keep yourself and those around you from unknowingly and unnecessarily spreading harmful germs.
Grace Rieck
Marketer
The HandStand – your protection against infection.
Encourage patrons and employees to use hand sanitizer to protect against the COVID-19 and other germs with our handy standing disinfectant dispenser.
Clean Hands, Cleaner Surroundings 
We are offering custom hand sanitizer stations as businesses and offices begin to open again after quarantine. Our HandStand design offers touch-free, trouble-free dispensing.
Stay healthy: The HandStand sanitizing station is perfect for placement in malls, supermarkets, office buildings, schools, hospitals, and any establishment interested in fighting the spread of germs!
Germ-free solution: Each disinfectant dispenser stand is easy to assemble, available in multiple styles and models, and offers a refillable bottle that works with most hand sanitizer brands.
Promote hand-hygiene: With custom branding options, the HandStand can showcase a company, corporate sponsor, or local charity to customers and employees.
Brand Your HandStand
COVID-19 control is in your hands. Showcase your business, a corporate sponsor, or local charity on your HandStand. 
Graphics are completely customizable and will be designed by our 4x3 team on the same day as the final approved order. Each order is custom made to fit your needs; help your company stay on-brand while taking a stand against germs with a HandStand! Order today »