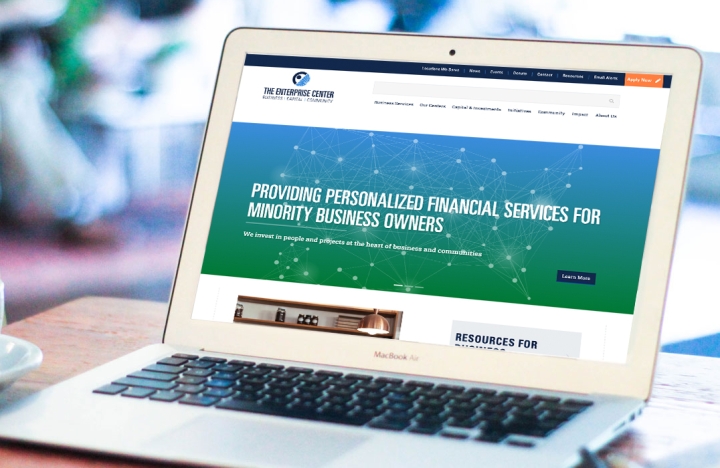 "After an extremely competitive bid process, our leadership team chose 4x3 to create our website, and it has been one of the best decisions we've made with our marketing. Amy and Stephen worked with us closely to understand our goals and designed a site that would not only meet our current needs but would have the flexibility to adapt and meet our future needs. Our web traffic has organically increased and our pageviews have improved over 190% based on Amy and Stephen's design and SEO recommendations, and – as a bonus – it's incredibly easy for our internal team to update the site and add content. This has ultimately lead to increased conversions and client engagements: exactly what we wanted from our website. I couldn't be happier with our website!"
Elizabeth McGinsky
Vice President - Communications, The Enterprise Center
The Enterprise Center approached 4x3 to upgrade its web presence and reorganize the large amount of content on its website, making it more user-friendly. 
For more than three decades, The Enterprise Center has promoted racial and economic equity by supporting the growth of diverse small businesses and partnering with West Philadelphia communities on revitalization strategies. As a trusted mediator, we bring together businesses, communities, partners, and resource providers with the shared goal of equal opportunity and prosperity for all.
Drupal's Superior Functionality
4x3 delivered a full site rebuild in Drupal, creating an inviting, user-friendly website for TECs many stakeholders.
We also integrated custom Drupal modules and and intelligent navigation tools to ease the burden of updates for this content-rich website and enhance the functionality of the site. The site can now be managed without any high-level programming expertise while remaining a fully responsive web design.