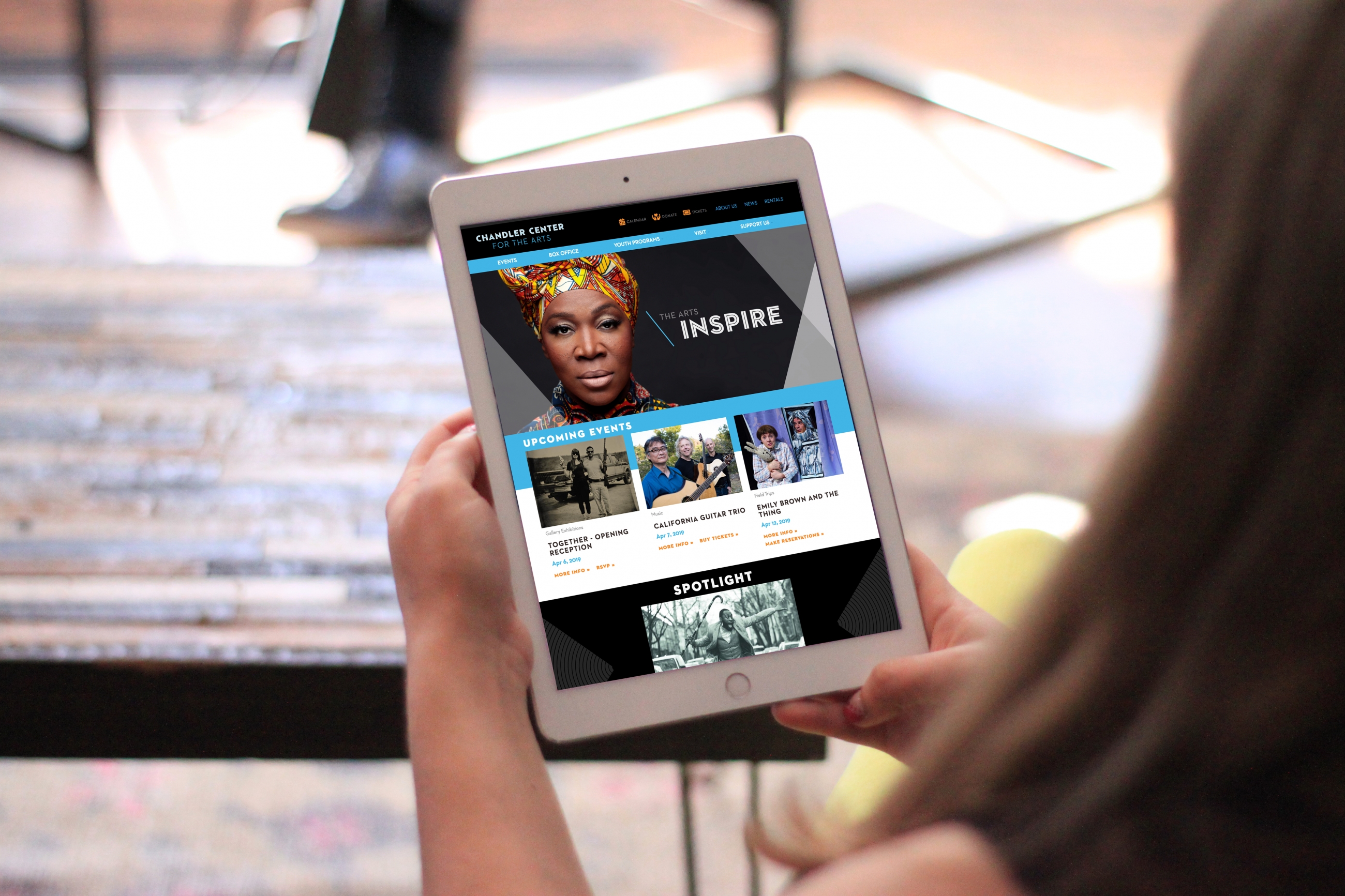 We built a highly dynamic and user-friendly website for Chandler Center for the Arts that is visually beautiful, socially connected, and fully responsive.
Expanding Chandler Online
Over the past several months we worked closely with Chandler Center for the Arts to design an impactful and engaging website. The end result: a user-friendly web experience to match the powerful new brand by Cause Design.
Through the use of cutting edge modules and intelligent navigation tools, we guarantee the functionality of the site to accommodate the Chandler Center for the Arts' content-rich database and upgrade their user-friendly web presence for visitors.
"As a performing arts center, we wanted a site that would communicate our brand traits to our visitors right away - welcoming, innovative, contemporary... We couldn't be more pleased with the outcome. Feedback on the site has been positive and staff feel comfortable and confident using the platform to create and edit content. It was wonderful to work with 4x3 from concept to live."
Cynde Cerf, Marketing and Communication Coordinator
With clear fundraising pathways and well-integrated calls-to-action, the Chandler Center for the Arts website digitally connects their mission and vision to help them become a creative force and an educational resource for the community.
Websites & Brands for Art Organizations
4x3 actively partners with Arts, Culture and Non-profit organizations to fundraise, engage with audiences, market themselves effectively and build greater visibility using the web.
For websites that make information free, it is important to create a well organized website to avoid frustrating user-experience, which harms efforts for fundraising, advocacy and sustained visibility. With 4x3 your website's content strategy is designed with supporter and visitor needs in mind.
We help organizations use the web effectively by creating customized solutions, including:
Promotional websites & branding
User-friendly contemporary design
Resource databases
News & event management
Search engine optimization
Integrated marketing tools
Social media integration
Responsive web design
In this digital age where everyone is looking for access to information quickly, it is important that you create invest in responsive web design. Think about driving engagement and user experience for the mobile-user so you are able really focus on your website experience, how to tell your story, and engage your visitors on all devices.
As part of our agency, we supply design, marketing and technology support to a variety of Arts, Culture and Non-profit organizations across the country. We're proud to partner with programs like Phoenix Theatre, The National Arts Program, Arizona Opera, and now Chandler Center for the Arts.